Based in downtown Vancouver, we are an energetic and passionate team of like-mind travel enthusiasts who love Canada! We believe in the value of collaboration and the power of sharing ideas. We work hard to deliver the best experience for our customers, but we make it feel like play. And we love to celebrate, a lot.
See Available Roles
TRAVEL

Travel is our jam. For work, we help people plan their trips. For fun, we are always planning our next travel adventure. Working at Fresh Tracks allows you VIP access to industry discounts and endless insider travel tips from a ready supply of enthuastic travel buddies.

GROW

As insatiable travellers, we are naturally curious people and this fuels our desire for continued learning and growth. Working in a team of such well-travelled people means that there is literally a world of experience when we share ideas.

PEOPLE

We are a group of passionate individuals who like to keep the employee experience human. We like to have fun. Life is too short and the world is too big to take everything seriously. So we surround ourselves with good people who make us smile and laugh.
OUR CORE VALUES
We exist to keep travel human. In everything we do, we are True Insiders and strive to uphold our brand attributes of being Inspired, Intimate, Clear and Canadian. These seven values keep us true to our mission of working with travellers from all over the world to co-create their Canadian story.
GET TO KNOW US

⟶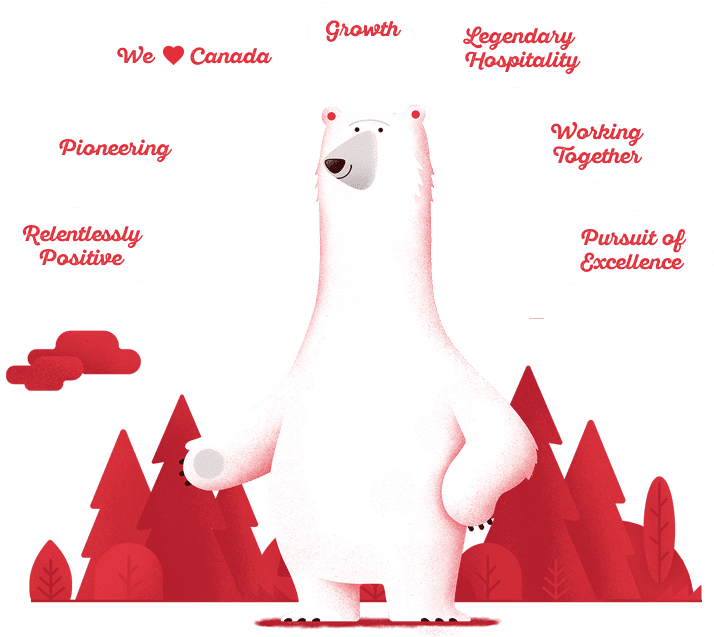 ---
Come join us
Meet the team

⟶
---
Your career at Fresh Tracks
We believe in creating a great place to work, where people feel empowered and successful.
PERSONAL DEVELOPMENT

A job at Fresh Tracks can be the start of an interesting and rewarding career in tourism. We provide ongoing coaching and professional development to foster personal and career growth.

HEALTH & WELLNESS

We offer our team extended health and dental benefits but health & wellness doesn't stop there. We are always looking at innovative ways to keep it top of mind.

WORK-LIFE BALANCE

We know that work only plays one aspect of your life and we encourage our employees to go and explore all the beauty Canada has to offer. Seeing ski boots or snowshoes tucked under a desk is not an uncommon sight in our office!
MAKE AN IMPACT

We respect our team members and rely on them to be resourceful idea creators and problem solvers. We offer competitive salaries because we want to attract strong, passionate people.

BE PART OF SOMETHING BIGGER

Discovering a team of like-minded people - who love travel and showing off our country - feels like more than just work. It makes for a fun and friendly environment where great team-building and social events go hand-in-hand.

TRAVEL PERKS

Let's cut to the chase. We're all travellers. So we all make the most of our Canadian travel industry discounts, familiarization trips, and membership with the International Air Transport Association (IATA).
---
CURRENT ROLES
We're always keen to work with dynamic people who have a passion for Canadian travel. If this is you, please reach out by applying for one of the roles below.
Temp

Temp, Full Time

Vancouver, BC

LEARN MORE

Junior Accountant (Contract)

Accounting , Contract

Vancouver, BC

LEARN MORE
Don't see what you're looking for? Reach out to careers@freshtrackscanada.com